today is Disabled people payday, well at least its mine. Its difficult to find a parking space for my handicapped ass on days like this. but, since my back wasnt hurting so much, i roughed it. I see so many people WAY worse off than i am, so i can suck it up.

First thing on my agenda was my monthly pain doctor appointment. He refills my drugs, asks me how i am, i tell him, then i leave. Actually, this doc is pretty cool. He was a medic in Iraq, and tells me a story each time i visit. i have insomnia pretty bad, and my meds dont always work. We've been trying for over a year to find something that will work, and no luck. Today he told me to try self-hypnosis. Its kind of like visualizing your feet relaxing, your calves, etc, working your way up to your head and back down. He said they used it in Iraq. It gets so noisy there, and he noticed that the soldiers were able to go into a deep sleep right next to a big loud tank. When he asked the soldiers about it, they told him the self hypnosis is what they use. Anything thats good enough for a soldier is good enough for me.

Scotty made ribs on the barbecue today. Well, he made them for a friend.The weather was ripe for Barbecue! Down the hill from Waltons Mountain, the temperature was 80 degrees. Here at home, it got up to 61! we had to open a window! i dont like barbecue, so he made mine in the slow cooker, with taters and carrots. turned out awesome! We didnt have a barbeque, so we bought one at Walmart, for the great ON-SALE price of 5 bucks! So for that price, it was a bargain. Here's some pics of Scottymon the master chef.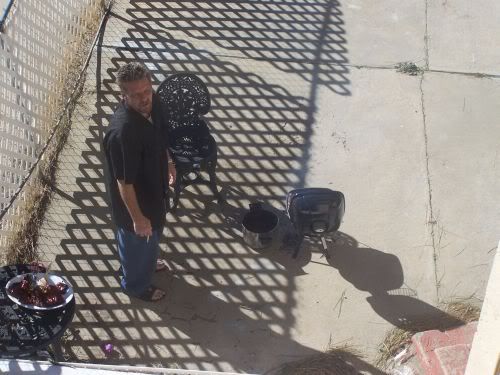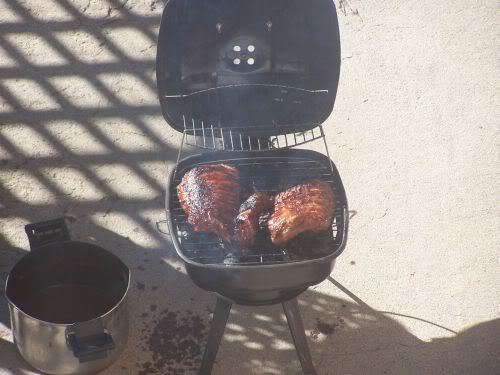 and of course here's Monkey supervising Scotty while he barbecued. Henry J wont come out of the garage, he chooses to hide in a cabinet. He'll venture to the litter box and to a plastic chair to sleep, but the minute he hears someone, zoom, he's gone! I give it another couple days, and he'll be fine.